Basements naturally have a lot of moisture, which can cause mold and mildew. They can also be cold spaces that spike your energy costs as your home works overtime trying to keep them at a comfortable temperature.
Not all basements are adequately insulated, but because of changing building codes, basement wall assemblies are now requiring more insulation than ever before.
That's good news for homeowners because proper basement insulation makes for a more comfortable living space. Start planning your basement project by using continuous rigid insulation and an installer-friendly friction fit batt insulation between the studs. When combined, these products improve your home's thermal performance, making your basement the envy of your neighbours, and can reduce your energy bills.
Ready to start? Whether you're working with a brand-new basement or you're insulating an existing basement, let's take a closer look at how to insulate basement walls…
Install your insulated sheathing board.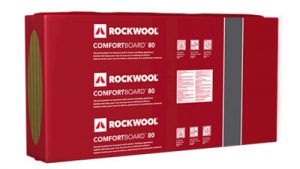 Start by installing a rigid stone wool insulation sheathing board like ROCKWOOL Comfortboard® 80. It's non-combustible, water-repellent, fire-resistant, and sound absorbent — providing a continuous layer of insulation around your basement's interior foundation wall.
For a concrete wall, you'll need concrete fasteners with washers (so they don't go through the insulation, keeping the board tight to the foundation wall). It should only take 5-6 nails to put up a full sheet. Cover the whole wall, making sure the boards fit together snugly without any gaps. If the boards are a bit too long, trim them down with a serrated knife — it cuts just like bread!
Insulate between the studs.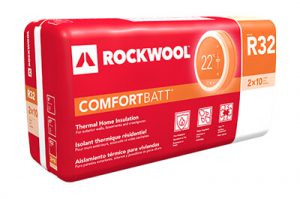 Once your studs are installed over the insulated sheathing board, it's time to insulate between the studs with a stone wool insulation like ROCKWOOL Comfortbatt®. This probably looks more like the insulation you'd had in your mind — light, semi-rigid pieces that compress when they're inserted into the walls.
To install, simply compress the batts, insert them into the stud cavity, and release for a friction fit. Even if you give it a slight tug, it should stay firmly nestled between the studs.
Hit the finish line.
By combining the ROCKWOOL Comfortboard® 80 and the ROCKWOOL Comfortbatt®, you can achieve code-compliant performance that's going to keep your basement warm and comfortable year-round.
Depending on your climate zone, you may be required to install a vapour barrier (consult local building codes to be sure). If it's a requirement in your area, simply install the vapour barrier using the manufacturer's specifications and be sure to seal it up properly with code-approved tape. Now you're all ready to drywall — and you know we can help with that, too! 😉
Ready to insulate your basement? Yes! You've got this! Be sure to stop in and see us at your local TIMBER MART, and we'll get you organized with everything you need.