In the quest for the perfect deck, the battle rages on: traditional wood or the modern marvel of composite decking? Join us as we debunk myths and uncover the facts in this ultimate face-off.
The Maintenance Myth
MYTH: Some wood decks (pressure-treated wood, cedar, redwood) don't require upkeep.
FACT: All wood decks demand extensive upkeep, stealing precious summer days. Composite decking offers a maintenance-free alternative, resisting the elements with simple soap and water clean-up.
Traditional wood deck enthusiasts often believe that certain wood types, like pressure-treated wood, cedar, or redwood, are exempt from maintenance hassles. However, the reality is that regardless of the wood variety, traditional decks require significant maintenance efforts. Annual tasks like stripping, sanding, painting, staining, and sealing can become time-consuming and costly. In stark contrast, composite decking offers a hassle-free solution. With its advanced materials, a quality composite deck maintains its allure year after year with minimal effort—just a quick clean-up with soap and water is usually sufficient to keep it looking pristine.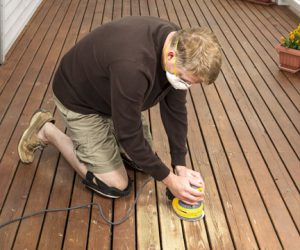 Natural Beauty Unveiled
MYTH: Only a real wood deck looks natural.
FACT: Composite decks emulate the beauty of real wood, complete with a stunning wood grain in various shades. Plus, say goodbye to splinters forever!
One common misconception about composite decking is that it lacks the natural appeal of real wood. In reality, composite decking successfully captures the beauty of wood, boasting a striking wood grain that rivals traditional counterparts. Available in a myriad of shades, from natural oak tones to rich mahogany, composite decks offer diverse aesthetic options for homeowners. An added bonus is the elimination of the age-old concern—splinters. Unlike traditional wood, composite materials ensure a smooth and splinter-free surface, providing a comfortable and safe outdoor space for all to enjoy.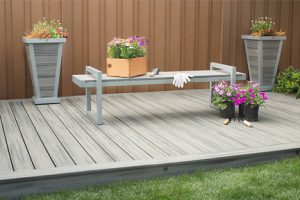 Photo source: www.trex.com
The Longevity Battle
MYTH: A wood deck outlasts composite.
FACT: Composite decking surpasses wood in durability, resisting rot, splitting, swelling, twisting, fading, and insect infestation. Enjoy a low-maintenance, long-lasting outdoor space.
While some argue that traditional wood decks can stand the test of time, the reality is that wood is susceptible to various issues over the years. Factors such as rot, splitting, swelling, twisting, fading, and the risk of insect infestation can compromise the longevity of a wood deck. In contrast, composite decking is engineered to withstand these challenges, providing superior durability. Homeowners embracing composite materials enjoy the benefits of a low-maintenance, long-lasting outdoor space that remains aesthetically pleasing through diverse weather conditions. The innovative design of composite decking is changing the landscape of outdoor living, offering a practical and attractive alternative for those seeking a reliable and enduring solution.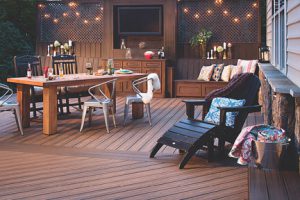 Photo source: www.trex.com
In conclusion, the debate between traditional wood and composite decking boils down to maintenance, aesthetics, and longevity. Don't let myths guide your decision—opt for the beauty and durability of composite decking. Have questions? Reach out, and let us guide you towards the perfect deck for your needs.
Ready to upgrade? Explore our range of composite decking options for a beautiful, low-maintenance outdoor space.