When it comes to building a beautiful new deck, this is a showdown for the ages — traditional wood or the intriguing new composite decking?
We've heard some pretty crazy theories from customers who aren't familiar with this high-performance technology. They've had wood decks their entire life, so why would they change to something different? What's so wrong with good old-fashioned wood?
We're going to settle this debate once and for all, as traditional wood goes head-to-head with composite decking …
MYTH: Some wood decks (pressure-treated wood, cedar, redwood) don't require upkeep.
FACT: Wood decks of ALL kinds require upkeep and lots of it!
Who wants to waste valuable summer days stripping, sanding, painting, staining and sealing every year? No matter what variety of wood you choose for a deck, it's going to need some serious upkeep.
A quality composite deck doesn't require all of that frustrating maintenance. It's going to look great year after year, no matter how the sun, snow, sleet, or rain beats down on it. A little soap and water clean-up is the most work it may need.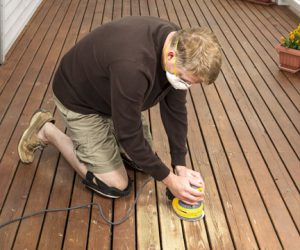 MYTH: Only a real wood deck is going to look natural.
FACT: Composite decks have all of the beauty of real wood – even the grain!
One of the biggest misconceptions about composite decking is that it's going to look unnatural. But composite decking boards have a beautiful wood grain and come in tons of different shades, from a natural oak tone or a beachy bamboo to deep walnut or mahogany. The rich colour remains year after year, and – bonus! – you'll never get a splinter.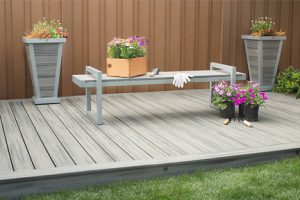 Photo source: www.trex.com
MYTH: A wood deck will last longer than a composite deck.
FACT: Composite decking is built to last in ways a wood deck simply can't.
Over time, a wood deck can rot, split, swell, twist, and fade, and it's also at risk for insect infestation. Sure, some wood decks will fare better than others, but they're no match for the strength and durability of composite decking. It's changing the way homeowners enjoy their outdoor spaces because everyone loves the appeal of a low-maintenance, long-lasting, good-looking material.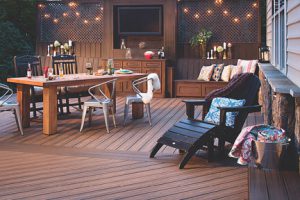 Photo source: www.trex.com
Lastly, it all depends on the type of maintenance you're looking to sign up for and just how long you need that deck to last. Any questions about what product is right for you? Let us know! We're always here to help.
Any questions about lumber versus composite? Let us know – we're always here to help!