Just because the neighbours all have plain stained decks doesn't mean you're stuck with brown and basic. Staining your deck is an opportunity to try something fun that will add interest and character to your home.
There's absolutely no need to go with one shade for the decking and railings. It's all about creating a personalized outdoor space where you can relax and spend time with your family.
Here are five unique deck ideas to pique your interest …
The two-toned deck: White paint is a pain when it's on the surface of a deck because it chips, flakes, and peels. It needs to be touched up — or redone entirely — every single year and nobody wants that kind of hassle. But bright white is so clean and visually pleasing that many homeowners choose to paint their railings white and stain the surface of their deck so it holds up better against furniture and foot traffic.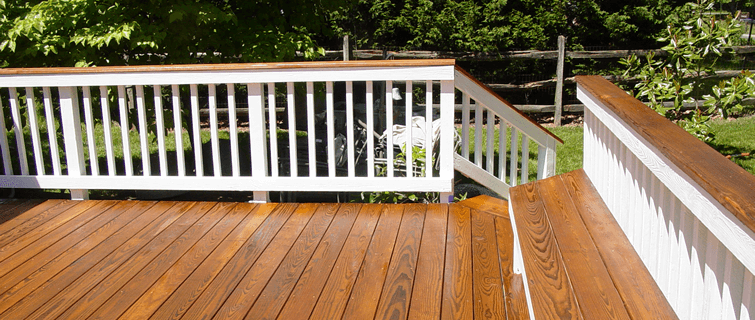 Photo source: SeeDirtRun.com
The multi-stain deck: Can't decide between Natural Cedar, Desert Brown, or Rustic Red? Go with all three — really! Choose your favourite shades and stain each board a different hue. This is a gorgeous look that requires a little extra time and planning, but the end result is well worth it.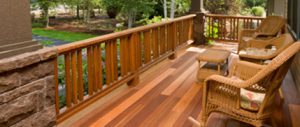 Photo source: HomeStratosphere.com
The subtle blend deck: Like the look of different stains but don't want something as geometric as the multi-stained deck? You can create this look by staining your deck with a medium shade and then dry-brushing sections with a darker shade until you get the desired look. This is an advanced technique and should probably be left to confident painters who have a lot of time on their hands.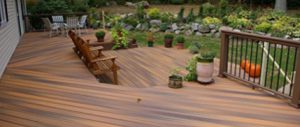 Photo source: ProGroupContracting.com
The double decker deck: If you've got a two-storey deck, you can highlight it by staining the top level a different shade than the bottom level. Pick two shades that go together well and make sure one is significantly darker. By adding touches of the coordinating shade on each level, they'll tie the spaces together and impress your backyard visitors.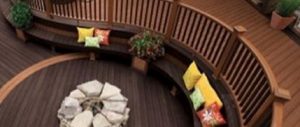 Source: AmazingHouseDesign.com
The unexpected deck: Yes, most decks are a woodsy shade you'd expect to see in the forest. But that doesn't mean you're limited to chestnut and rosewood. Think about the colour of your home's exterior and what might complement it. A cool grey or blue deck? A bright, Caribbean teal? An earthy clay or coral shade? Take a chance!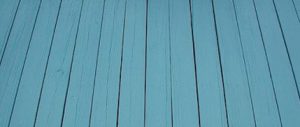 Photo source: Deck Wonders
Happy staining!