Spring cleaning usually means tackling your garage and getting it ready for a season of gardening, yard work, biking, and outdoor sports. What kind of shape is your garage in at the end of a long winter? Is it ready for a bit of TLC?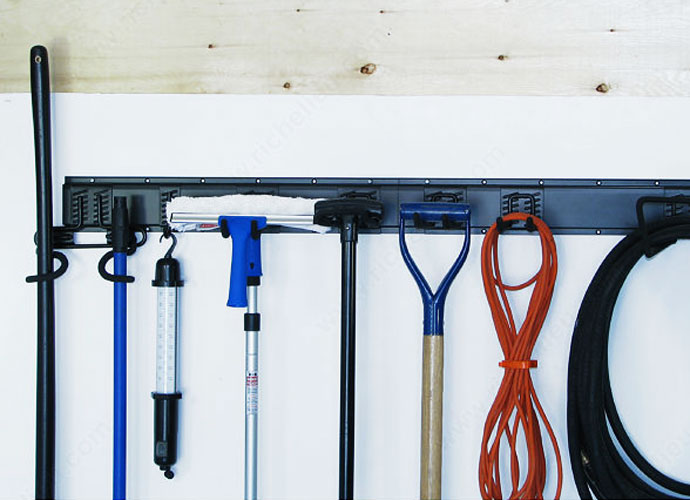 Many of our customers tell us their garage is "always messy" no matter how many precious Saturdays they spend trying to clean it up. The problem is that if the right systems aren't in place, things don't have their own proper space to return to — and it's impossible to keep the space organized.
Luckily, we know a LOT about organization here at TIMBER MART. From pegboards and wall hooks to ingenious inventions for storing sports equipment, here are a few products that will make it much easier to clean up your garage this spring — and keep it organized …
MOUNTING BRACKETS:
Get everything off the ground and corralled onto this nine-piece metal and neoprene unit that can hold a safe working load of up to 100kg. It comes with two mounting tracks and seven hooks of various sizes, designed to hold shovels, rakes, mops, hoses, extension cords, and just about anything else you'd want to hang.
JUMBO STORAGE HOOKS:
When an average-sized hook just won't do, this jumbo storage hook can hold up to 40lbs without breaking a sweat. It's perfect for keeping ladders and heavy lumber off the floor of your garage.
PEGBOARDS WITH HOOKS:
Pegboards are ideal for keeping small items neatly stowed. You can use small hooks of various sizes for hanging up tools like hammers, wrenches, screwdrivers, scissors, and rulers. But pegboards aren't just for hooks! Clip-on storage bins are perfect for items you need to grab frequently — like tape measures — that don't hang properly on hooks. Screws, nails, tacks, and other small pieces are best stored in special plastic jars that clip onto pegboards.
FLEXIBLE MULTIPURPOSE STORAGE HANGERS:
For hard-to-hang items that don't quite work on standard hooks, try a Kuvu. It's a flexible black rubber tool with loops on each end, and can be used to hang, wrap, hold, hoop, grab, and organize lots of things in your garage, like skates and scooters or bike helmets and hockey sticks.
BICYCLE LIFTS:
Think of how much room you'd save in your garage if bicycles weren't leaned up against walls or parked helter-skelter across the floor. A bicycle lift will help you maximize your garage's storage potential by using a pulley system to stow a bike near the ceiling.
BALL HOLDERS:
We LOVE this lightweight plastic invention that finally puts an end to basketballs and soccer balls getting loose and rolling down the driveway. A ball holder can be mounted just about anywhere in your garage, and its plastic arms wrap around a standard-sized ball — keeping it there safely until the next game or practice.
—
Ready to dive into spring-cleaning your garage? Be sure to come by and see us. We'd be happy to suggest even more products that can help whip your space into shape in no time. Happy organizing!