Sure, you can paint picture frames or freshen up that mirror you found at a yard sale. But what about lighting fixtures, fabric and furniture – did you know those can be spray painted, too?
Thanks to the different formulations designed for metal, plastic, wood, wicker and more, you can find a spray paint for just about every medium. No brushes or trays to clean and it's easier to get light, even coverage.
Here are seven spray paint projects that will get you excited about holding down the nozzle …
A custom chandelier. Pick up a beat-up bronze beauty at a flea market and modernize it with a fresh coat of paint. It won't look like the same light fixture, we promise. Our favourite chandelier shades are soft aqua, creamy yellow or white, or a punchy shade of coral or teal.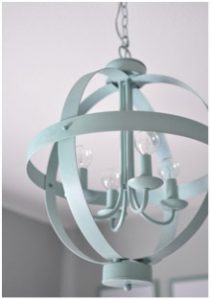 Photo source: CentsationalGirl.com
Perfect patio furniture. Revive a rusted set by removing rust with a stiff wire brush, sanding the rough spots, spraying on a coat of primer, and brightening it up with a bold hue. Finish with a coat of spray lacquer and you've got a unique set that will look great all summer.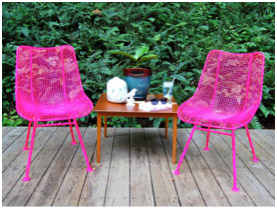 Photo source: DIYNetwork.com
Striped curtains. Yes, you really can use spray paint on fabric. Mark off your stripes with pieces of painter's tape, cover the areas you don't want to paint with plastic, tape it down well and spray your stripes with a few light coats. Remove the tape right away and you should have crisp stripes on your curtains.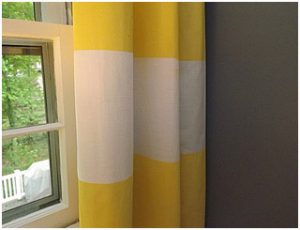 Photo source: LifeonMarsblog.net
Shiny planting pots. Gold accessories are simple and classic and you can make them yourself with inexpensive juice glasses, painter's tape and a can of gold spray paint. Spray the inside of the glasses (covering the outside in newspaper) and then you'll have a shiny outer surface that can't be scratched up.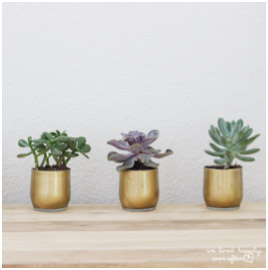 Photo source: WeLivedHappilyEverAfter.com
A welcome mat. Buy a plain jute mat, tape on a stenciled greeting and start spritzing! When you remove the stencil, you'll have a customized mat that brings a smile to your guests as soon as they arrive.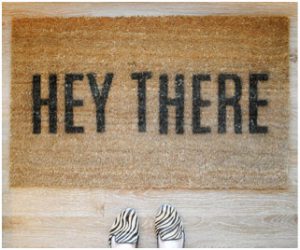 Photo source: Griffanie.com
Dipped decor. Although it's called a "dipped" look, these vases were sectioned off with painter's tape (and a bit of plastic wrap) and sprayed with a beautiful shade of gold. You can "dip" jars, bottles, vases, planters and just about anything else in your casa.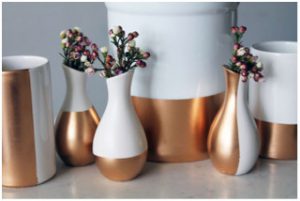 Photo source: CarlaAston.com
Upgraded doorknobs: If shelling out for brand new hardware isn't in the budget, grab a can of oil-rubbed bronze spray paint. You can upgrade doorknobs, drawer pulls and cabinet hardware quickly and easily.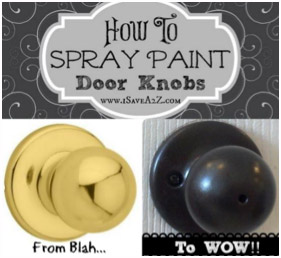 Photo source: ISaveA2Z.com
Happy spray-painting!