An enchanting mix, the colour of sky and sea, blue inspires us to reconnect with nature in a modern world plagued by anxiety. It's also this year's SICO's colour of the year! The colour works well anywhere you want to rest and relax. Here's how to make Mystic Cobalt look incredible in your bedroom, living room, or bathroom:
Bathroom – create your oasis
Pair Mystic Cobalt with bright white trim and cabinetry for crisp contrast, or with dark, heavily grained wood for a richer look. Brushed gold accents pop well against the blue and can be incorporated into the space through hardware (like faucets and drawer pulls) as well as mirrors and other décor items. White subway tiles keep the look clean and minimalist, while veined natural stone will play off of the blue's watery tones for a coastal vibe.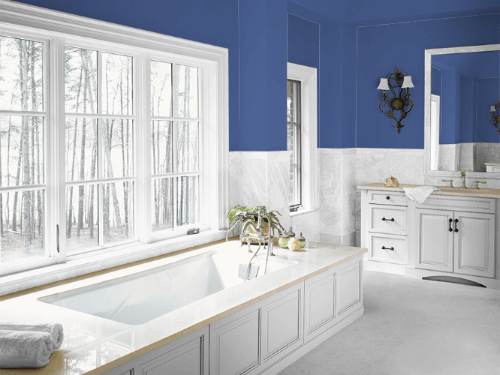 Living room – welcoming and eclectic
Modernize the colour by mixing rich metallic accents like gold, rose gold, and silver – think picture frames, vases, lamps, and so on. Brown leather sofas and chairs as well as dark wooden coffee tables and hard furnishings look great with the blue. Keep the look contemporary by mixing patterned and textured throw pillows and textiles: white or off-white linens, soft chinoiserie or geometric prints, neutral faux furs or suedes, or whatever your heart desires.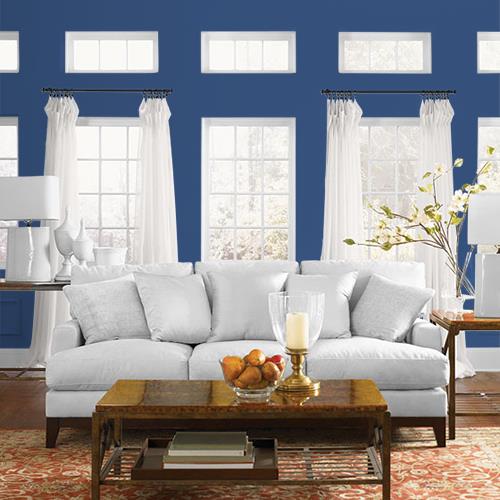 Bedroom – a soothing retreat
Make Mystic Cobalt the star by keeping all of the accents in your bedroom light and white. Grey- or white-washed wood floors give an airy vibe while framed black and white photographs with large white mattes will pop against the blue. Consider light, neutral bedding and rugs woven or braided from jute or other natural materials to give texture and a beachy look.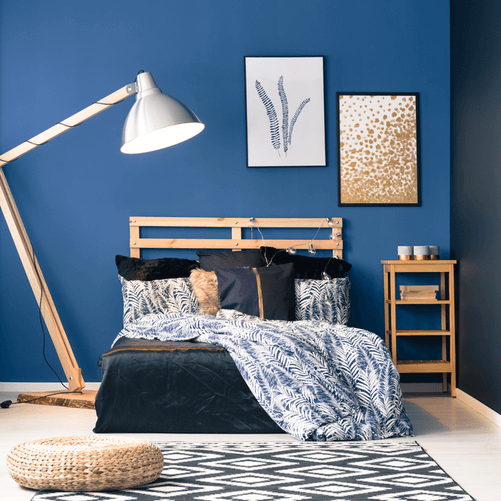 Will you incorporate Mystic Cobalt into your home's interior décor? If so, happy painting!
***
At TIMBER MART, we're paint experts. Stop by your local TIMBER MART and we'll answer any questions you may have.