Composite decking is growing by leaps and bounds each season as more homeowners discover the joy of never having to scrape and repaint a deck ever again.
We get a lot of questions about composite decking and how it compares to a traditional wood deck, so we thought we'd run through the basics here today for you.
From what kind of maintenance is involved and how long it lasts to what it looks and feels like, here's a look at what you might not know about Trex Transcend® decking …
It lets you relax.
Who wants an outdoor space that they have to spend more time maintaining than enjoying? Traditional wooden decks need to be regularly sanded, stained, or painted, whereas Trex Transcend® decking resists fading, staining, scratching, and mold — and won't rot, warp, crack or splinter.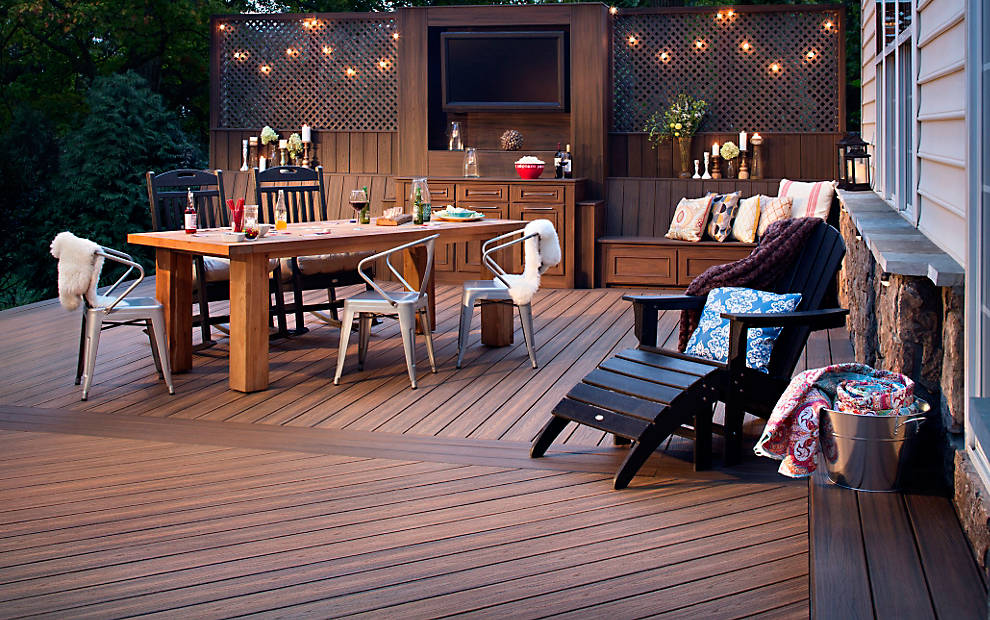 "It delivers all the beauty and aesthetics of wood but without the back-breaking and time-consuming upkeep," says Leslie Adkins, vice president of marketing for Trex Company.
Adkins says the average person spends approximately 10 hours per day in front of a screen — and that number's growing each year — so it's important to spend time enjoying your outdoor spaces, rather than sweating to maintain them.
"Thanks to the impressive design and quality of today's outdoor products, these spaces often rival the convenience, comfort and design of the indoors," says Adkins. "Outdoor living spaces offer a chance to decompress, enjoy nature and connect with friends and family."
It's easy to maintain.
So if you don't need to seal, stain, paint, or sand your Trex Transcend® decking, then what does it require? Well, maybe a bit of soap and water if you spill a glass of lemonade on it. That's it!
It has the beauty of exotic wood.
This is a definitely an "I Can't Believe It's Not Wood" moment. Trex Transcend® decking comes in 10 beautiful shades (five monochromatic earth tones and five multi-tonal tropical hues) so homeowners can choose from Havana Gold, Island Mist, Lava Rock, Spiced Rum, Tiki Torch, Gravel Path, Firepit, Rope Swing, Tree House, or Vintage Lantern.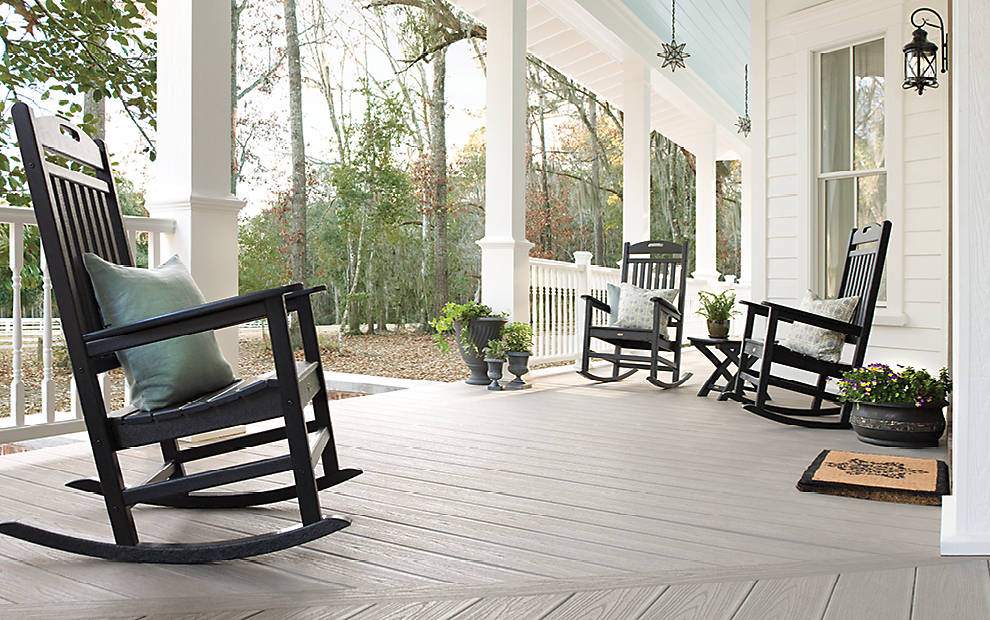 It's a sustainable product.
Many homeowners — especially eco-friendly first-time buyers — are interested in sustainable alternatives to wood products. They feel strongly that they don't want to contribute to deforestation and want to reduce their carbon footprint as much as possible.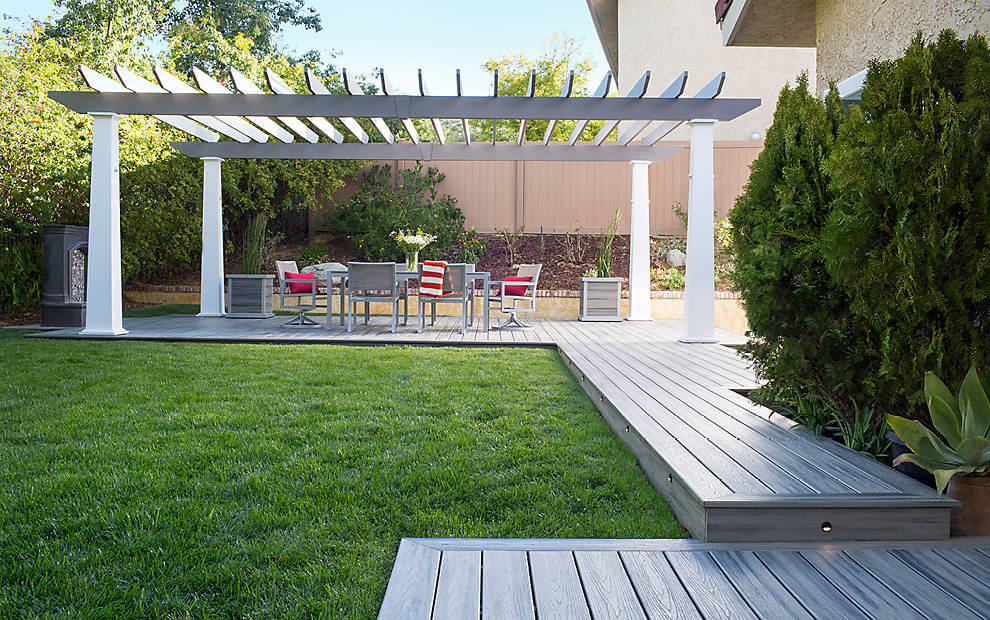 They appreciate that Trex Transcend® decking is so environmentally friendly, since it's made from 95 per cent recycled and reclaimed materials. Trex diverts more than 250 million pounds of plastic film, plastic bags, and plastic wrap from landfills each year — giving it a second life as a product that's going to be going strong more than 25 years later.
Composite is getting more popular every year.
You might not think you're very familiar with composite materials, but we bet you come across them more than you think. Today, composite materials can be found in everything from outdoor furniture to slip-on shoes.
It's comfortable and cozy.
It's nice to sprawl out on an outdoor recliner with plush cushions, but did you know Trex Transcend® decking is actually smooth and comfortable underfoot? No splinters here!
Homeowners with elevated decks like that they can use the space underneath for a cozy backyard haven, too. Many contractors are installing drainage systems like Trex RainEscape® to create usable under-the-deck dry space for furniture, lights, entertainment components, and even outdoor ceiling fans.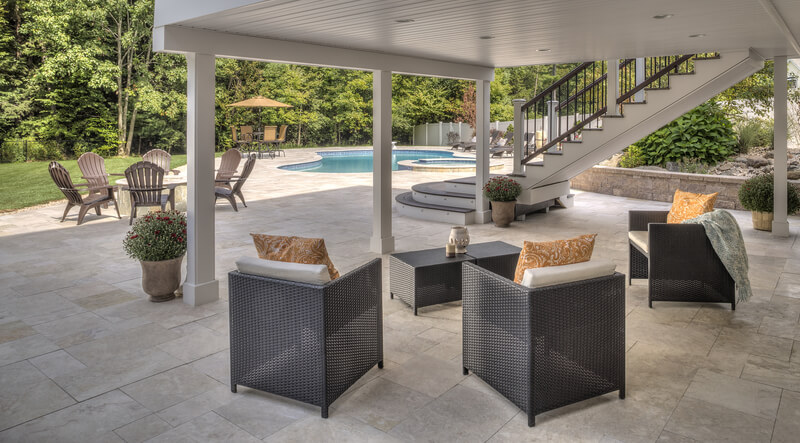 It's going to look great for decades.
Why spend the money on a deck that's going to need to be replaced before you know it, when you can choose a deck that's going to last for decades?
Trex Transcend® decking comes with a 25-Year Limited Residential Warranty as well as an extra layer of coverage: an additional 25-Year Limited Residential Fade & Stain Warranty.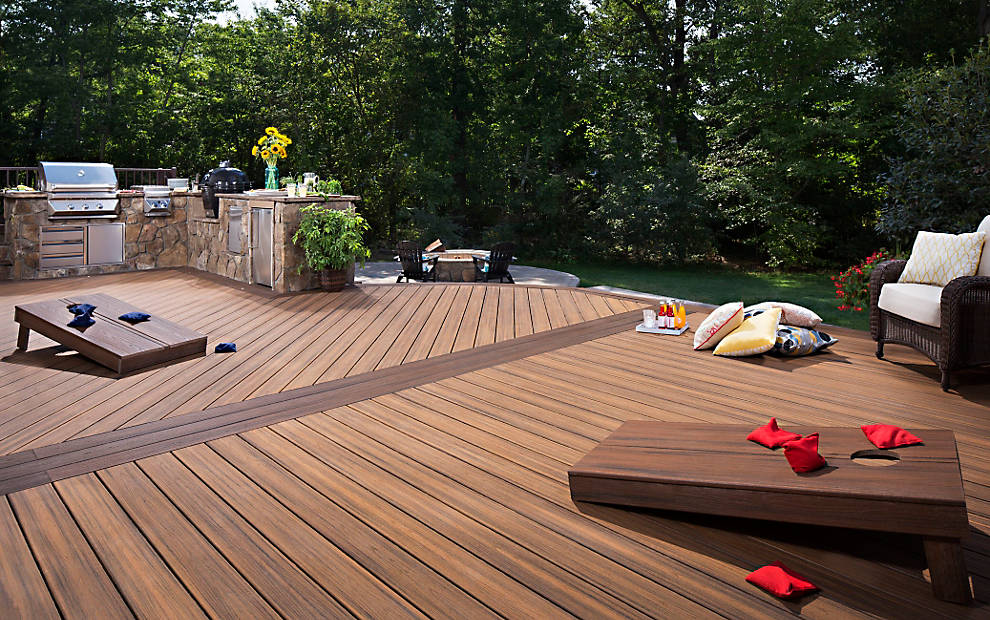 "Homeowners are increasingly thinking long-term when it comes to creating and accessorizing their outdoor living spaces," says Adkins. "They're selecting high-performance materials with warranties that ensure decades of use."
It's easy to install yourself (if you want to).
Some homeowners hire a professional to install their Trex Transcend® decking, but others love getting to break out their tools and do it themselves.
"Nothing beats the satisfaction of building something yourself," says Adkins. "If you're comfortable using a hammer, a power saw, and a drill, you can build your own deck."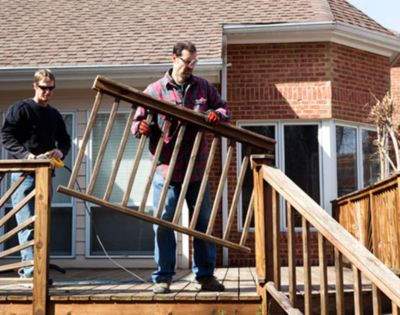 If your existing deck's substructure is intact, you may be able to just resurface it with your Trex Transcend® decking. How's that for the most rewarding DIY you'll tackle this summer?
***
Curious about composite decking, and want to know more about Trex Transcend® decking? Pop into your local TIMBER MART to ask us about it. We'd love to share more.