We learned back in elementary school that blue and green are calming, yellow is invigorating and red can stir up feelings of anger or excitement. Well, that's all true and that wisdom can come in very handy when you're choosing paint colours for your home.
Here's a rundown on choosing the best colours for the different areas of your home:
THE BATHROOMS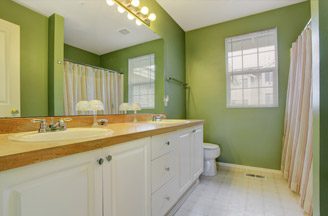 They should be calming spaces to start and end each day, whether it's with a long, hot shower or a leisurely bath. Traditionally, homeowners choose spa-like colours like soft blue (PPG's Bit of Heaven) and seaglass green (PPG's Geyser) to give that feeling of peaceful relaxation, paired with lots of white for freshness. If cool tones aren't your thing, pick a cozy warm shade like cream (PPG's Golden Fleece) or tan (PPG's Spiced Vinegar).
THE KITCHEN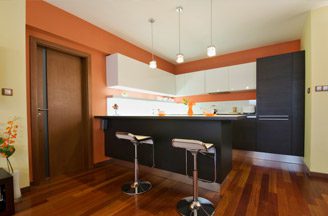 Everyone has a different vision for their kitchen so there isn't a one-size-fits-all formula for choosing the perfect colour. Some homeowners like the idea of a dramatic, spicy kitchen that warmly welcomes guests and brings in the colours of food – like rich oranges (PPG's Ginger Root) and greens (PPG's Light Sage). Others want a sleek, modern space without a lot of colour to distract from the textures – marble, stainless steel, or wood – and prefer to paint the walls white (PPG's Gypsum) or grey (PPG's Cracked Slate). Homeowners that spend a lot of time in the kitchen might want a monochromatic, calming look where the cabinets and tile flow smoothly into cream-coloured walls (PPG's Hearth).
THE BEDROOMS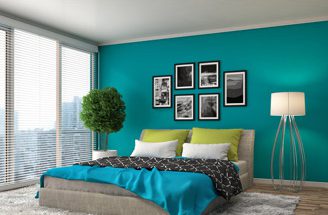 Choosing a paint colour for your bedroom can be one of the most difficult decisions because, really, anything can work – it's the place to express your personal style! You want to wake up to a space that makes you feel happy and ready to start your day. The first question to ask yourself is if you'd like a deep, bold wall colour or if you feel it would be "too much". We recommend picking your bedding first and then choosing your paint from there – whether it's the deep green leaves in the duvet pattern (PPG's Succulent Leaves) or the pale blossoms on the pillowcases (PPG's Only Oatmeal).
THE LIVING ROOM / DINING ROOM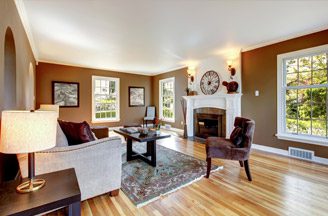 Do you want this space to exude drama and opulence or are you going for a casual-and-friendly vibe? Large living rooms with lots of natural light can handle just about any colour – even daring choices like brown (PPG's Chestnut) or black (PPG's Black Magic) but small, dim spaces feel larger with a lighter tone (like PPG's Belgium Waffle). Think about what furniture, accessories and art you're introducing. Are they all fairly neutral and could benefit from a splash of bright colour on the walls (like PPG's Catalina) or are there so many bold colours and patterns that they'd look best against a neutral wall colour (like PPG's Fossil Stone)?
We know it can be overwhelming to flip through sample after sample, and that's why we're here to help! Let us know if we can assist you with your paint colour selection