Remember in elementary school when you'd use too much glue and the paper would turn into a wrinkled mess?
Have you tried using glue for a home improvement project lately? It can be just as bad. Thankfully, spray adhesives have made it so much easier to tackle tasks and DIYs – no matter how big or small.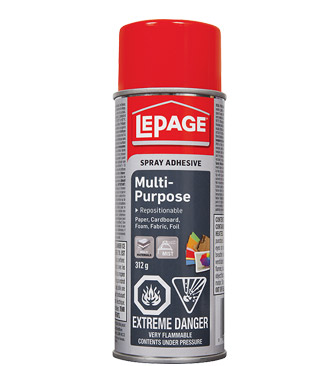 LePage® Multi-Purpose Spray Adhesive dries clear, and you can apply multiple coats to get a super-strong hold.
It won't bleed through your project or cause wrinkling and curling like some other adhesives you may have tried, so it can even be used for paper and cardboard – along with fabric, leather, felt, cork, wood, glass, foil, metal, rubber, certain plastics and most types of foam.
Now, this spray adhesive is best for indoor projects, since it can yellow slightly if it's exposed to sunlight. Add it to your craft stash and you'll be glad you did.
Project suggestions:
Re-cover a lampshade by misting it with LePage® Multi-Purpose Spray Adhesive and pressing on new fabric. Trim around the edges and secure the ends with more adhesive, and you've got yourself a brand-new lampshade.
Create an oversized gallery in your child's room by lightly spraying the back of posters with LePage® Multi-Purpose Spray Adhesive, laying them against the wall and using both hands to smooth out any air bubbles.
Add patterned paper to furniture by covering the backs of scrapbook paper with LePage® Multi-Purpose Spray Adhesive and pressing them against the back of a hutch, the inside of a bookcase or the sides of a dresser drawer. Lightly spray another coat on top to seal and protect the paper from rips.
If you're not crafty, you might scoff at spray adhesive and think it isn't strong enough to manage a larger project.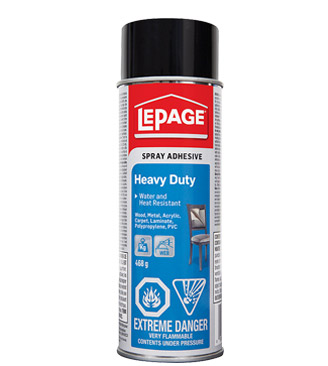 But LePage® Heavy Duty Spray Adhesive is designed for outdoor projects and situations where you need a strong, permanent bond.
Its high temperature resistance means you don't have to worry about the adhesive melting when it's exposed to heat or shrinking in the cold. It resists yellowing, too.
LePage® Heavy Duty Spray Adhesive is tough enough to adhere wood, metal, glass, carpet and plastics. It's the handiest sticky sidekick you never knew you were missing.
Project suggestions:
Secure laminate, trim work or kick plates in your RV, your boat or any other tight space.
Adhere carpet and other flooring without the hassle of nails or staples
Use it in your garage to secure interior parts or hold them in place while you secure them
Ready to get your spray on? Remember, we're here if you have any questions about which one's right for your next project.