Doesn't it feel like no matter how many devices you unplug or light switches you flick off, your power bill never gets any lower?
That's because a large chunk of the power is typically going towards heating and/or cooling your home. If that warm or cool air is escaping via your windows and doorframes, well, you're just going to keep paying more to maintain your home's temperature. Not fair, is it?
Luckily, there's a way to decrease in your power bill: sealing up those tiny nooks and crannies where your heat – or air-conditioning – is escaping. All you need is a trusted product that can handle the job, like LePage® QUAD® Foam.
They say good things come in small packages, and this simple pressurized metal container holds a single-component, minimal-expansion, low-pressure polyurethane foam that packs a powerful punch.

LePage® QUAD® Foam is part of the QUAD Window & Door System, and this handy foam is used to insulate and seal around windows and door frames – along with jambs, mud sills, header joints, corner joints, top plate penetrations, electrical and plumbing penetrations and other areas where air infiltration or heat loss may occur.
So how does it work? You dispense a bead of LePage® QUAD® Foam along gaps, cracks, holes, and voids, and then watch as the product expands slightly to create a seal – stopping air and moisture infiltration.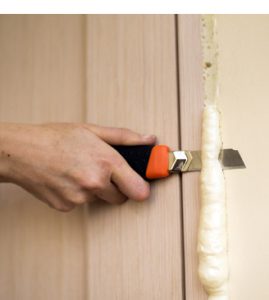 In less than one hour, you're able to trim it or cut it as needed. It remains nice and flexible, won't absorb moisture because of its closed-cell foam structure, and it won't crack over time.
LePage® QUAD® Foam can be used on all types of building materials, like wood, drywall, and concrete. It's fully compatible with asphalt and butyl flexible flashing, and it won't warp or deform windows or doors. It's also GreenGuard® Certified for Children and Schools.
LePage® QUAD® Foam is easy to apply and a single container can deliver more than 1,000 ft. of foam (using a 3/8" bead size). Think about how much lower your power bill could be once you've sealed up those pesky cracks.
Why pay more money to heat or cool your home when the solution is as easy as not letting any of it escape in the first place?