Remember when faucets were blunt and basic, and we relied on red and blue plastic circles on the taps to tell hot from cold?
You won't believe the new features you can find in modern faucets! Not only do they look a million times better, but they also have perks and hidden features that make them more useful.
Let us take you for a quick tour of what you can expect to see while faucet-shopping …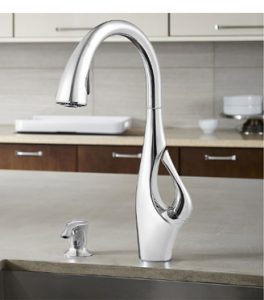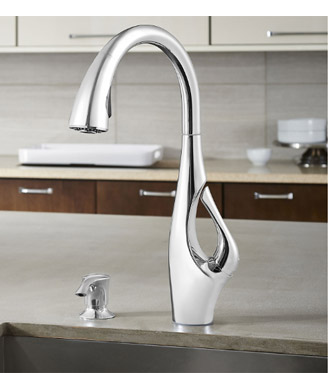 Photo Source: pull down handle
Sleek silhouettes: Many modern new faucets are truly works of art, with beautiful curves and graceful shapes that make a strong statement about your kitchen. Some faucets, like Pfister's Indira, even have an integrated pull-down handle so you get a single, elegant shape.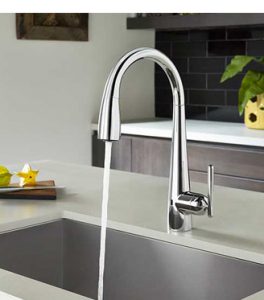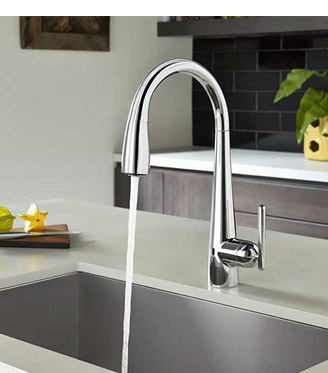 Photo Source: touch free pull down handle
Sensors replacing the need for taps: Could it be, really? A solution to touching your kitchen taps with grimy, germy hands covered in raw food? More and more faucets — like Pfister's Selia, Pasadena, or Lita — are using touch-free technology. By placing your hand — or a dish — within four inches of a sensor, the water will turn on automatically. Don't worry about overflowing your sink, though, because it will turn off after two minutes.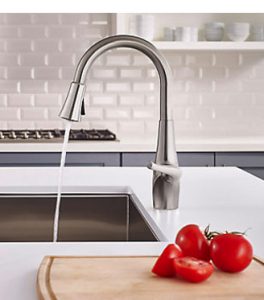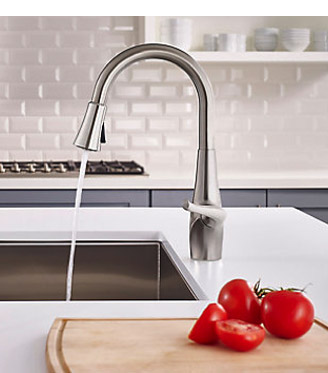 Photo Source: Xtract technology faucet
Filtered water made easy: With a single, super-smart faucet, there's no need for an annoying mini-faucet to get the clean, filtered water you'd prefer to drink. Pfister faucets with Xtract technology uses a high-flow filtration system to quickly dispense cold, great-tasting drinking water with reduced chlorine, pharmaceuticals and lead.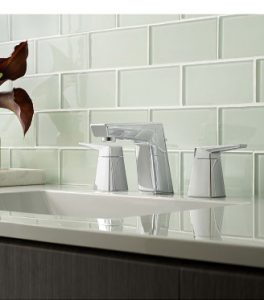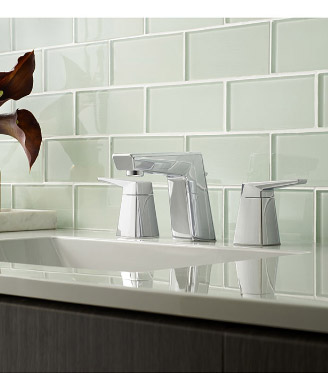 Photo Source: widespread lavatory faucet
Adjustable heights: Some faucets are giving homeowners the option to adjust their height depending on what they're doing in a particular moment. A low setting reduces splashing and doesn't obstruct your view of the backyard, the medium setting is perfect for everyday use, and the highest setting allows you to fill tall pots and vases with ease — it also looks really dramatic, too.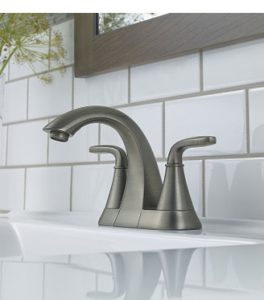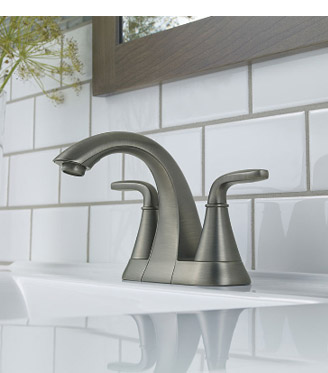 Photo Source: centerset bath faucet
Premium finishes: The internet is exploding with tips for how to get your faucets to gleam because many homeowners have the standard chrome finishes — impossible to keep totally clean and streak-free for more than half a day tops. Consider low-maintenance finishes — like Pfister's Slate — that give you the classic feel of stainless steel but without the build-up of fingerprints and water spots.
If you're in the market for a new faucet for your home, tap in — sorry, we couldn't resist — to our years of expertise and ask us about it!