Building Supplies

Better Building Supplies
Great projects start with the best construction supplies. TIMBER MART sells premium lumber, roofing supplies, and more.
Premium Lumber
High-quality lumber is essential for any successful building project. We sell premium 4-Square™ lumber and pressure-treated lumber from Sienna MicroPro™.
Roofing
Your roof is the most important part of your property. It protects you from the elements and provides insulation for your home or business. We sell a variety of state-of-the-art roofing supplies, including:
• Shingles
• Metal Roofing
• Polycarbonate Roofing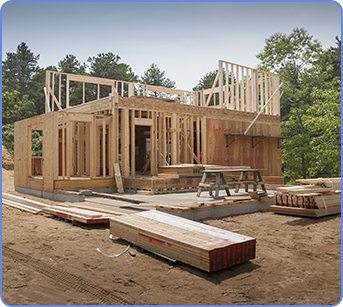 Doors & Windows
Your doors and windows are some of the first things visitors will notice about your property. Make a great first impression by installing beautiful, energy efficient products. We offer a huge selection and can custom order anything we don't have in stock. Our products include:
• Interior Doors
• Exterior Doors
• Screen Doors
• Folding Doors
• Windows
• Skylights
Adhesives & Fasteners
Your building is only as solid as the nuts and bolts that hold it together. We offer reliable construction adhesives and structural fasteners for any project.
Concrete, Cement, & Blocks
Concrete and cement are versatile building materials with a wide range of uses. Our products are ideal for use as landscaping features, structural elements, and more. We offer:
• Building Blocks
• Retaining Wall Blocks
• Pavers
• Pre-Mixed Concrete
• Portland Cement
The Products You Need
Our team has many years of experience working with the hardware and construction industries. We know which products are best for any construction or DIY project. If you need any help finding the right materials for your project, don't hesitate to ask.