Our Reader Board SIGN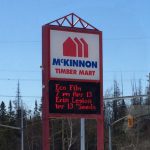 Our Reader Board SIGN
We are happy to post community information and events on our sign. To be included here is what you need to do:
Email your message to nancy@timbermart.ca by Sunday night of the week you want it posted. 
4 lines are available for your message. 3 lines can ONLY be 11 characters including spaces, the 4th line can be as long as required BUT keep in mind that cars pass by at 60KM so the most important information should be static and the scrolling message as short as possible. The scrolling line can be in any line position.
This is a FREE service we offer and will do what we can to ensure it is posted but do to time constraints and space on the sign we can not guarantee that your request will be met.
 It MUST be in the following format so that it can be cut from your email and pasted into the program.
Acceptable format
Eco Film
7 pm Apr 13
Erin Legion
Weds Apr 13 "Seeds of Time" Doors open 6:30 Free admission
Unacceptable format
Line 1: Eco Film

Line 2: 7pm

Line 3: Erin Legion

Line 4: Wed April 13th "Seeds of Time" Doors open….

Unacceptable format
Canada Day festivities

July 1st Erin McMillian Park

Fire works and games

5-10pm