Whether you plan to install them yourself or you're hiring a professional to create a stunning deck — and railings — straight out of an HGTV makeover show, it can be tricky knowing exactly what to get.
We've teamed up with our friends at Trex® to chat about your railing options and give you a few pointers for choosing the right ones for your deck …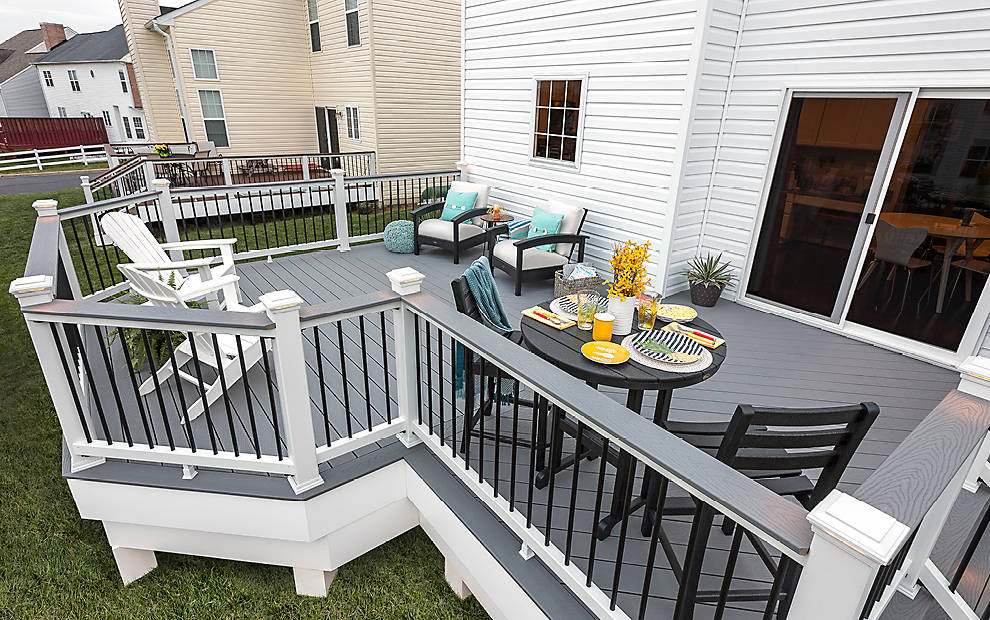 THE SELECT® RAILING
If you're looking to install a railing yourself, this one is perfect for DIYers. It comes in a timeless shade — Classic White — with round aluminum balusters that will complement any decking style. This railing is made from 40 per cent recycled material and installs easily with an external bracket system.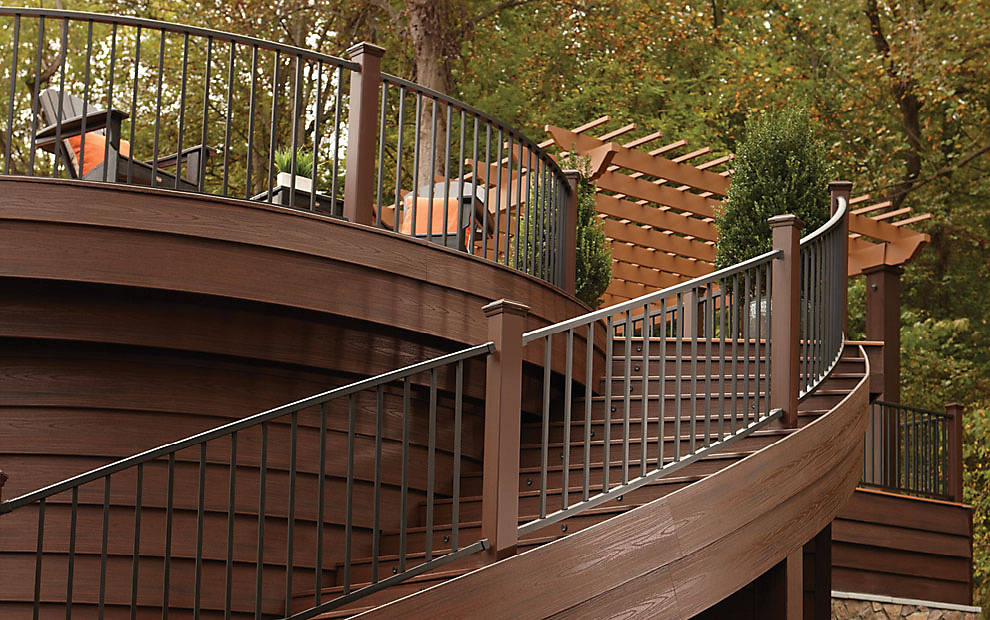 THE SIGNATURE™ RAILING
Want something a little fancier? The Trex® Signature™ Railing is offered in three different matte finishes — Charcoal Black, Bronze, or Classic White — to match your deck, and it comes in two different rail styles that suit its design.
THE ROD RAIL: If you love the look of horizontal railings, the Rod Rail is the perfect mix of vertical aluminum posts (with a cap and skirt) and horizontal aluminum rods that won't obscure the view.
THE CURVED RAIL: We love the look of a rounded deck with curvable hand railing and swivel brackets. Imagine leaning back against a curved rail and looking up to admire the stars in an inky black sky.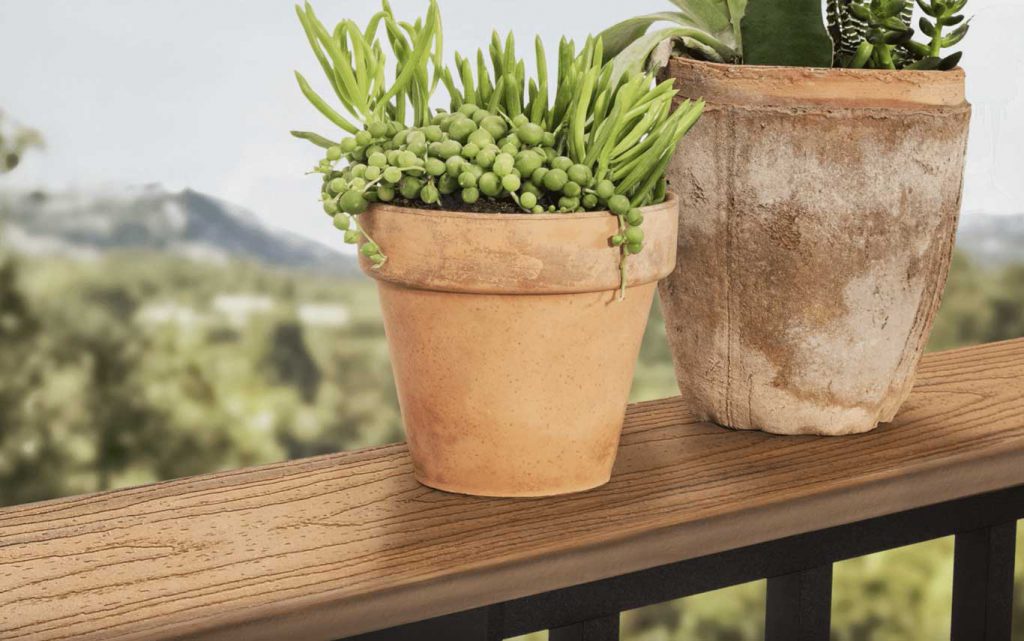 You might want to add … a cocktail rail!
Instead of trying to balance your drink on a skinny railing, why not opt for the cocktail rail? It's the ideal spot for resting your drink — or arranging a row of planters — without worrying it's going to slip right off. Trex's cocktail rail is so popular that it's available as an option on any of their railing components. The structural aluminum guardrails are designed to curve with the shape of the deck, and the railings are available in two heights: 36" or 42".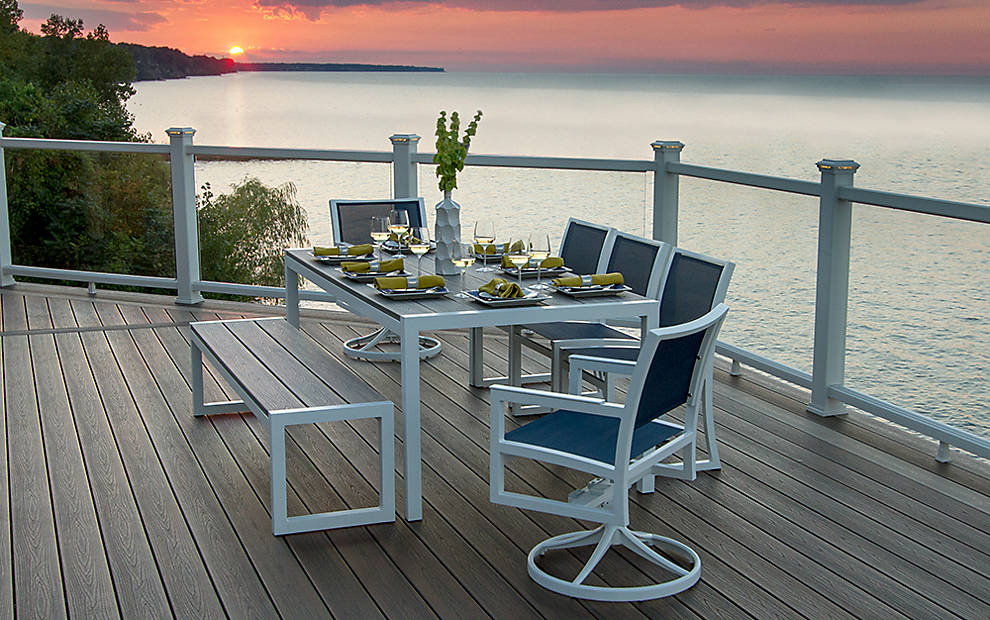 THE TRANSCEND® RAILING
When only the highest-performing railing will do, go for the luxurious Transcend® railing. It's made from the same material as the Transcend® decking, which means it won't rot, warp, peel, or splinter.
It's available in seven shades — Charcoal Black, Classic White, Fire Pit, Gravel Path, Rope Swing, Tree House, and Vintage Lantern — so you can choose a shade to match your deck, or a shade to complement it.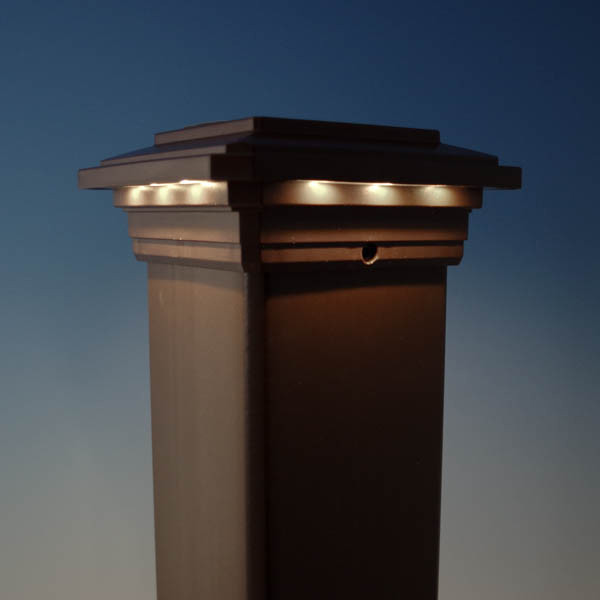 You might want to add … warm glowing lights!
There's nothing like the soft glow of exterior lighting when you're spending time outdoors once the sun has set. It lights your way around the property, but it also provides a feeling of coziness.
You can get a Post Cap Light that's tucked discreetly under the cap of your railing. It provides soft downward lighting that makes it easy to see where you're going in the dark. You can also opt for a Deck Rail Light, which is secured just below the rail post to light up the deck below.
If you'd prefer the lighting to be built right into your deck, you can choose recessed dot-style lights that are installed flush with the deck boards. There are also stair riser lights that make it much safer to go up and down deck stairs in the darkness.
Questions about choosing the right railings for your deck? Be sure to stop by your local TIMBER MART and chat with us about it. We'd be happy to help.