Live a peaceful farmhouse life… or just look like you do?
It's true — more and more Canadians are dreaming of a home that looks like it could be plunked right in the middle of dirt roads, hay fields, and lush green paddocks. People love the warmth and comfort of what's become known as "farmhouse style," and you don't have to live anywhere near farm country to score the look.
Popularized by Chip and Joanna Gaines and their HGTV show, Fixer Upper, farmhouse style inside a home incorporates elements like weathered beams, white shiplap panelling, and lots of oil-rubbed bronze hardware.
But how do you go about making the outside of your home have that casual farmhouse flair? We asked our friends at James Hardie for a few words of wisdom…
White done right.
White shiplap is everyone's farmhouse favourite indoors, and it seems white is the most popular farmhouse shade outdoors, too. HardiePlank® lap siding is their best-selling product, with its natural cedar texture that mimics natural wood.
Arctic White is by far their most popular shade for the farmhouse crowd. It's no coincidence that it looks just like white shiplap! Of course, it's a heck of a lot more durable than what you'd find indoors — HardiePlank® lap siding is tested to stand up to hurricanes, UV rays, snowstorms, and more.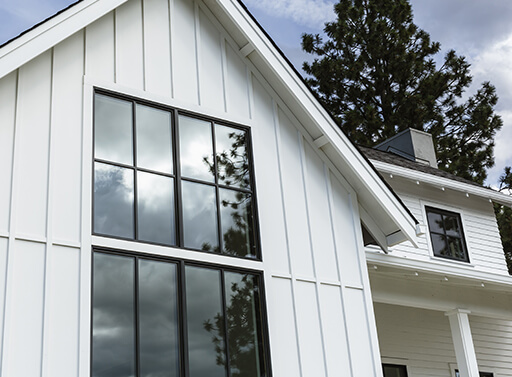 Black windows, please.
What looks better against crisp white HardiePlank® lap siding than dramatic black windows? Not much!
The contrast between black and white is naturally pleasing to the human eye, making each component look even better than it would when paired with another shade. Black windows — and black shutters, too — are a great addition to classic white siding.
Farm-fresh flavour.
Black and white aren't the only farmhouse favourites, of course. Our friends at James Hardie report that many homeowners like choosing a fresh pastel shade to achieve that relaxed farmhouse vibe.
Their "Peaceful Pastels" collection includes dozens of soft shades perfect for cozying up on the porch with a glass of freshly-squeezed lemonade, like "Icing Blue," "Fishing Boat," "Modern Rose," and "Parchment."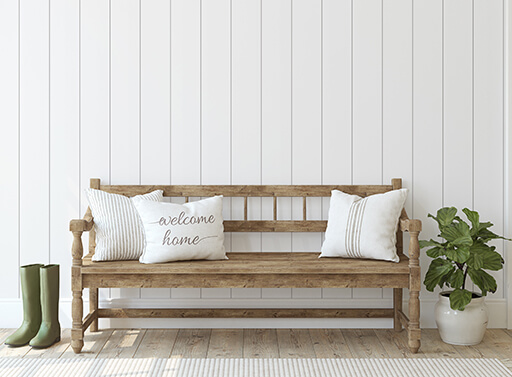 Vertical Paneling.
Homeowners looking for a rustic board-and-batten look are pairing HardiePanel® vertical siding with HardieTrim® boards, or going with the sleeker "modern farmhouse" look of simple vertical lines.
When you're used to siding running horizontally, seeing it run vertically adds so much visual interest. Bonus points for using it for a coordinating barn on your property — "Traditional Red" is the ultimate barn shade, especially paired with bright white windows and doors.
Cozy cottage style.
Farmhouse appeal comes from classic inspirations like glass milk bottles, wire egg baskets, and iron kitchen gadgets, so it makes sense that traditional cedar-style shingles are making a comeback.
Get the look of hand-hewn cedar shingles without the rotting, curling, warping, and splitting that comes with real wood. HardieShingle® siding is strong and durable, and adds a fantastic country texture to your home.
We're here to help you on your farmhouse adventure — just drop by your local TIMBER MART and say the word! We can't wait to work with you.