The first step in building a new deck is coming up with a design, and now that's easier than ever before.
Since Simpson Strong-Tie is an industry leader in structural wood connectors, it makes perfect sense that they've developed user-friendly, intuitive deck planning tool.

The Simpson Strong-Tie Deck Planner Software™ is completely free to use, and it's web-based so you don't have to worry about downloading a new program onto your computer.
You can design in 2D or 3D environments — whichever is more comfortable for you — and there's an in-app video tutorial that will guide you through each step of the process.
Ready to get started? Visit strongtie.com/products/go/software/deckplanner to start playing around with this innovative software.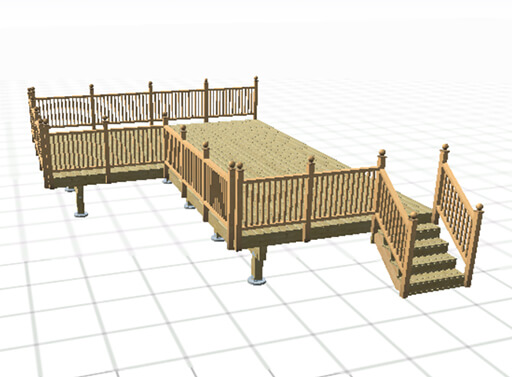 Design your deck.
If you've ever played a video game like The Sims, this will seem like second nature. Use the tools to drag, drop and resize the components of your new deck.
Shape your deck so it's the perfect fit for your home. Add wall details, board details and stairs, and even edit the railings. Change the colour, style and size of each detail as needed until you have the exact deck you've pictured in your mind — or one that's even better than that!
See it in real life.
Grab a roll of painter's tape or some old cardboard boxes and figure out the area you'd like your new kitchen island to cover. Depending on the layout of your kitchen, this could easily be anywhere from 1-4 metres long!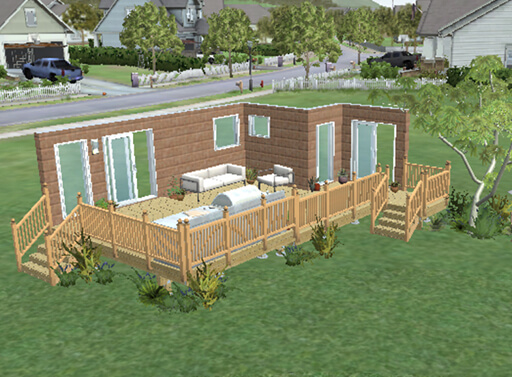 Focus on the details.
While the look of your deck is important, what's even more important is everything that holds it securely together.
Click the "Connectors" icon to display the inner workings of the deck you designed. You can change the finish of the connectors — galvanized or stainless steel — or even swap out the specific types of connectors using the product browser.
Click the "Fasteners" icon to toggle between different types of fasteners (i.e. generic, colour-matched, or hidden) and browse specific decking fasteners using the product browser.
Generate a list of materials.
Once you're happy with your deck design, you need to know exactly how to build it, so click "Report" to view an up-to-date list of all the materials used in your design.
The exportable shopping list describes each specific piece you'll need, including the quantity and a description (sizes, shades, etc.) — all broken down by each section of the deck. Export the CSV file to your computer and it's ready to be printed or emailed for your next TIMBER MART shopping trip.
Prepare for your build.
A list of materials wouldn't be very helpful without instructions that tell you exactly how to put them together, right?
Click "Create Report" to generate the full deck plans, which include specifications and a bill of materials. The report is an easy-to-read PDF document that includes measurements, instructions, a list of required tools, and even what you need to know about securing a deck permit.
With a little know-how and this excellent deck planning tool — did we mention it's totally free? — you're well on your way to building the deck of your dreams.
If you have any questions, stop by your local TIMBER MART and we'll be happy to help out.