Docks
Gooderham TIMBER MART is your dock destination!
Our large selection of dock hardware and accessories make it easy to complete your project. You can design your own dock or we can design, assemble and deliver it for you. Scroll down for sizing, prices and options.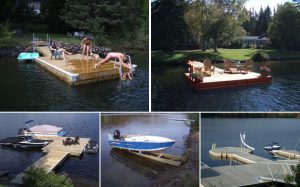 Our selection of custom docks on display will allow you to look at the finished product before buying or give you some ideas on how to complete your own project. We have prebuilt 8′ x 12′ and 8′ x 16′ docks assembled in pressure treated and cedar ready for delivery!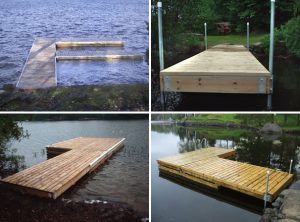 Floating Docks Assembled
Please call or visit the store for pricing.
 

| SIZE | FRAME MATERIAL | 5 1/4 DECK MATERIAL | RETAIL PRICE | COMPOSITE DECKING |
| --- | --- | --- | --- | --- |
| 6′ x 12′ | Cedar | Cedar | | |
| 6′ x 16′ | Cedar | Cedar | | |
| 8′ x 12′ | Cedar | Cedar | | |
| 8′ x 16′ | Cedar | Cedar | | |
| 6′ x 12′ | Pressure Treated | Pressure Treated Sienna | | |
Ramps Assembled
 

| SIZE | FRAME MATERIAL | 5 1/4 DECK MATERIAL | RETAIL PRICE | COMPOSITE DECKING |
| --- | --- | --- | --- | --- |
| 3′ x 8′ | Cedar | Cedar | | |
| 3′ x 10′ | Cedar | Cedar | | |
| 3′ x 12′ | Cedar | Cedar | | |
| 3′ x 16′ | Cedar | Cedar | | |
| 4′ x 8′ | Cedar | Cedar | | |
Dock Floats
 

| SIZE | TYPE | RETAIL PRICE |
| --- | --- | --- |
| 2′ x 4′ | Plastic Foam Filled | |
| 4′ | Plastic Foam Bumper | |
| 7″ x 8′ | Dow Foam Billet | |
| 10″ x 8′ | Dow Foam Billet | |
Ladders
 

| SIZE | TYPE | RETAIL PRICE |
| --- | --- | --- |
| 3 Step | Fixed White Metal | |
| 4 Step | Fixed White Metal | |
| 3 Step | Flip-up White Metal | |
| 4 Step | Poly | |
| 4 Step | Flip-up Poly | |
Anchors & Accessories
 

| SIZE | TYPE | RETAIL PRICE |
| --- | --- | --- |
| 100 lbs | Concrete | |
| 5/16″ | Galvanized Chain | |
| 1/4″ | Galvanized Chain | |
| 3/8″ | Galvanized Chain | |
| Light | Galvanized Hinge and Pin | |
Picnic Tables
 

| SIZE | TYPE | RETAIL PRICE |
| --- | --- | --- |
| 6′ | Spruce | |
| 6′ | Spruce (8 Seater) | |
| 8′ | Spruce | |
| Kids | Spruce | |
| 6′ | Pressure Treated Sienna | |