Once you've seen truly beautiful, intelligently designed kitchen faucets, your builder-basic one will start to seem a little basic. These next few designs are all that and the kitchen sink.
Ready for an upgrade? Here are a few things you should keep in mind when you're shopping for a new faucet …
The fit: Start by examining how many holes are on your sink or countertop. This will determine the kinds of faucets you're able to choose from. Deck plates are used to cover up old holes, allowing you to go with a newer one-hole faucet, but more homeowners are choosing the clean look of a faucet without a deck plate.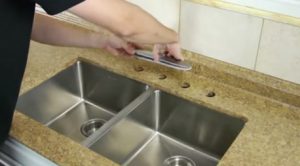 Photo Source: How to center installation videos
The function: A good faucet is about much more than just looks – it needs to keep up with you in the kitchen and work the way you like. Test out different faucet styles to see what feels most comfortable. Do you like the straightforward function of separate hot and cold handles, or do you find it easier to use single-handle faucets? Would you really appreciate the convenience of a hands-free faucet, or are you looking for something more classic?

Photo Source: explore contemporary kitchen styles
The finish: Basic faucets are the standard polished chrome, but there are so many more possibilities once you start to look around. Bronze and black finishes add drama and sophistication to a kitchen and brushed nickel while unpolished chrome finishes are sleek and modern. You can also get kitchen faucets with a beautiful slate finish.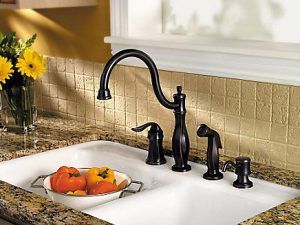 Photo Source: black finish kitchen faucet
The aesthetic: Instead of the standard side sprayer, did you know you could choose a faucet with a pull-down spray wand? Homeowners with minimalist kitchens love the clean design of these double-duty faucets.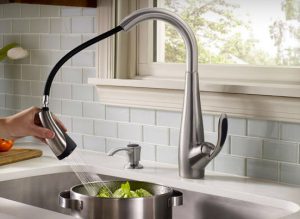 Photo Source: pull-down spray wand
The height: Chefs and foodies tend to choose faucets with a high arc – a faucet that's 8-10 inches above the sink – so they have plenty of room to lift pots and dishes in and out of the sink.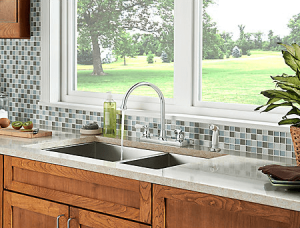 Photo Source: high arc faucet
The extras: If you do a lot of cooking, you might want to consider the convenience of a wall-mounted pot filler. They can be matched to the finish of your kitchen faucet, and it will be a purchase you're grateful for every time you reach for that oversized pasta pot.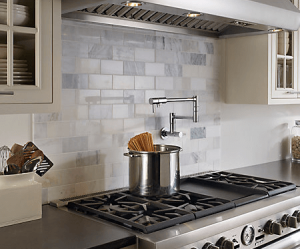 Photo Source: wall-mounted pot filler
Happy shopping!