Vinyl siding is durable and long-lasting, but it can fade and discolour over time. This is especially true for bright blue, yellow, and red vinyl siding (due to UV radiation) as well as for very dark colours because they attract more sunlight.
The good news is that you can absolutely paint your vinyl siding — making it look fresh and new again.
Of course, just because a can of paint says "exterior" doesn't mean it's the right paint for vinyl siding. The wrong formulation could leave your vinyl siding looking streaky and it could easily flake or peel.
That's why it's important to use a specially formulated exterior paint designed for vinyl siding, like PPG's Acri-Shield Max. It provides durable protection against Canada's weather, and provides a mildew-resistant coating to keep it looking great year after year.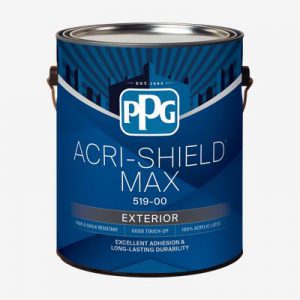 While Wonder-Shield® is great for vinyl siding, it's also designed to be used on wood siding, trim, masonry, weathered aluminum and even metal.
Just like most PPG paints, Wonder-Shield® comes in a variety of finishes so you can get exactly the look you want. We suggest using a flat, eggshell or satin finish for your vinyl siding, and then switching over to a satin, semi-gloss or gloss for your doors, shutters and trim.
While most homeowners are inspired to paint their vinyl siding because they want to refresh their home and make it look even better, painting vinyl siding has other benefits, too.
Painting your home's vinyl siding is far less expensive than installing new siding.
Painting vinyl siding can make your siding more durable, providing more protection from the elements and extending its life.
When your vinyl siding is refreshed with a new colour, it can improve your home's curb appeal and even boost its value.
If your siding is damaged or partially missing, you should bring in a professional to discuss repairing or replacing it. Depending on the age of the siding, it may still be under warranty — check that before making any changes.
The trouble with replacing just *some* of your home's vinyl siding is that it's often impossible to match the colour properly. A fresh piece of siding in the original shade will seem too saturated, since the rest of the home has already been faded from the sun. If you don't want your house to look "patchy," a fresh coat of paint could be exactly what it needs to look like new.
Here's another piece of good news: priming isn't usually required! Just clean your siding first, using a pressure-washer, to make sure it's dirt-free and properly prepared to receive the fresh paint.
 Have we inspired you to paint your vinyl siding? Great! Be sure to pop into your local TIMBER MART to chat with us about what you'll need to get started.