Bunkies/Sheds/Garages
Jump to: Bunkies / Sheds / Garages
Bunkies
Whether you are looking to add to your family getaway property or just need a little extra room we have the answer for you. You can choose from our standard plans or we can design anything you can dream up. Our designs meet the Ontario Building Code and we have an outside contractor sales team that can work with you on your project from start to finish.
Please visit our store for more details or view all of Timber Mart's Bunkie & Shed Plans online.
Tip: It is always best to contact your local building officials before you start your project.
192 Sq. Ft. Bunkie

280 Sq. Ft. Bunkie

320 Sq. Ft. Bunkie

Click here to view our Bunkie PDF
Bunkie Package Suggested Materials List:
Floor System
2″ x 6″ PT Sill Plate
6″ Sill Gasket
Spruce Beams or 2″ x 6″ Bearing Wall
Spruce Floor Joist
2″ x 2″ Cross Bridging
3/4″ x 4″ x 8″ T&G Edgegold Subfloor
Subfloor Adhesive
All 1 1/2 Story Garages are complete with floor trusses.
Roof System
Pre-engineered Truss or Rafters
2″ x 6″ Spruce Sub-fascia
1/2″ Spruce Plywood
2″ x 4″ Spruce Truss Bracing
25 Year Shingles
Bakor Ice & Water Shield
Coloured Valley Flashing
Metal Step Flashing
Omnivent
Octagon Gable Vents
6″ Aluminum Fascia
Vented Aluminum Soffit
Wall System
2″ x 6″ Spruce Exterior Studs
2″ x 10″ Spruce Lintels (some require LVL lintels)
7/16″ Waferboard
9′ x 100′ Typar House Wrap
2″ x 4″ & 2″ x 6″ Spruce Int. Partitions
Windows & Doors
Low E
DF Solid White Vinyl Windows
Exterior Pre-hung Steel Doors Vinylclad
Exterior Finish
Natural Pine Siding
OR
Northern Forest Premium Vinyl Siding
Hardware
Ardox Hand Nails
Power Nails
Galvanized Hangers
Roof Clips
Need a little extra storage space? We can help. Your local Highland Timber Mart has a selection of sheds on display ready to deliver. You can pick from our pre-built inventory or have us pre-assemble a kit for you with a floor, 4 walls and a roof so you can do the final assembly yourself and pick the type of siding and roof material that fits your needs. We can also assemble if for you on site, so you get the custom look you want without the need to do it all yourself!
Please visit our store for more details or view all of Timber Mart's Bunkie & Shed Plans online.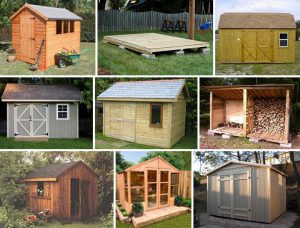 Garages
If your old storage shed is full or has outlived its days, we have the solution! Highland Timber Mart can help you build the garage you always wanted. Choose from our assortment of varied sizes and shapes. Or, if you are looking for something different to meet a specific need, our outside contractor sales team can design something just for you.
Please visit our store for more details or view all of Timber Mart's Garage plans online.
16×20 Garage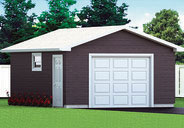 20×20 Garage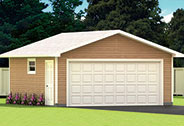 20×24 Garage